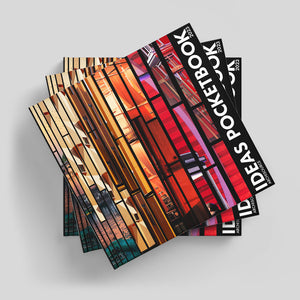 IDEAS POCKETBOOK 2023
Sale price Price $20.00 Regular price Unit price / per
"An extremely, extremely useful book for architecture students and I think I'll keep this book for many, many years and it will continue to inspire me."
"High quality content, quality over quantity, observing architecture inspires me and fills my mind with new ideas or possible solutions, and you execute that perfectly."
"Seeing the process that these designers go through, gives me the confidence that I can do it too and I think that is the true value of this kind of publication. This is not a collection of pretty images and word descriptions. This is a lot more than that. This is a curated collection that displays the process that designers have gone through… the things that you don't see in a formal publication."
"The first time I received this book I think I read about 50% of the book in one go.. because I was just so excited to read it. I really enjoyed reading all of the stats because it really made me feel like I'm part of a community and how many people have struggled with motivation, commute time, print costs, facilities - it made me feel less alone in my struggles."
"It's a source of inspiration... an ideas database shared in a creative and researched way."
IDEAS POCKETBOOK 2022
Sale price Price $20.00 Regular price Unit price / per